NLRB MAJORITY VOTES FOR SCABBY THE RAT
WASHINGTON (PAI)—Scabby The Rat escaped a Trumpite trap and lives on to fight for workers another day.
That's because after calling for briefs on the issue—and getting inundated with defenses of Scabby from unions around the U.S.–the National Labor Relations Board voted 3-1 on July 22 that former Trumpite NLRB General Counsel Peter Robb wrongly tried to kill the giant inflatable rodent. Even two of the board's three Republican members voted for Scabby.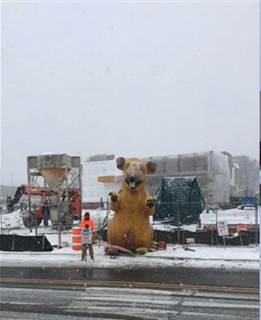 Robb used a case where Operating Engineers Local 150 erected Scabby, plus two banners, at a big RV trade show in Elkhart, Ind., in 2018. Neither Scabby nor the banners urged anyone to boycott or picket. They only told visitors that Lippert Components, an exhibiting firm at the show, was doing business with the company fighting Local 150 by hiring scabs. Lippert charged Scabby and the banners broke the law.
Enter Robb, who made it his mission, when GOP Oval Office occupant Donald Trump installed him as the NLRB's top enforcement officer, to roll back every advance in workers' rights he could find—those that occurred under Democratic-majority boards named by Barack Obama, and Bill Clinton…and…and…and. Including the board's prior OK for Scabby the Rat.
Trashing workers was nothing new for Robb. He first gained right-wing notoriety as the young Justice Department lawyer who drafted the legal memo GOP President Ronald Reagan used in 1981 to fire the nation's air traffic controllers and destroy their union, PATCO. The 14,000 controllers were forced to strike over unsafe working conditions.
Robb argued Scabby broke labor law. "Secondary picketing," he fumed—which the GOP's 1947 anti-worker Taft-Hartley Act outlawed.
Robb, whom Democratic President Joe Biden fired on his first day in office this year, tried to kill Scabby by getting the board last year to take up the case. Then politics changed. The board's sole Democrat, for now, Chair Lauren McFarren, wrote the NLRB ruling keeping Scabby alive. Two other Democrats will join McFadden in late August (see separate story).
"Under the constitutional avoidance doctrine, the potential infringement of a union's First Amendment rights precludes the board from finding the banners and inflatable rat in these circumstances violates" the National Labor Relations Act's secondary picketing ban, she wrote.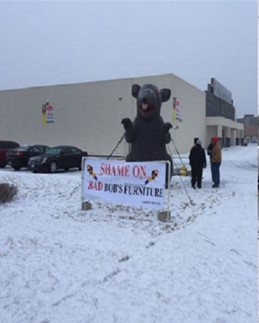 "Overwhelming court precedent protects a wide range of expressive activity, including offensive speech," McFadden continued. "Indeed, as my concurring colleagues correctly point out, the Supreme Court's holding…that expressive activity directed at a neutral employer's customers does not violate the act cannot be limited to the handbilling at issue" in the prior case the majority cites. It "readily applies to the union's display here."
"Accordingly, the courts have consistently deemed banners and inflatable rats to fall within the realm of protected speech, rather than that of intimidation and the like," as the NLRB's one dissenting Republican, anti-worker labor lawyer William Emanuel, alleged.
Local 150, which said on its website that it created and named the first Scabby decades ago, cheered. "We are pleased with this decision, and have believed since the outset Scabby's rights would be affirmed, as they have been time and time again for 20 years," said James Sweeney, Local 150's President-Business Manager.
"An attack on Scabby the Rat is an attack on workers' right to free speech, and we must all stand united against such attacks. The use of these rats draws public attention to employers' crimes and mistreatment of their employees, and so it is no surprise powerful interests would want to ban their use, but we will never stop fighting to protect workers' voices–or Scabby's."